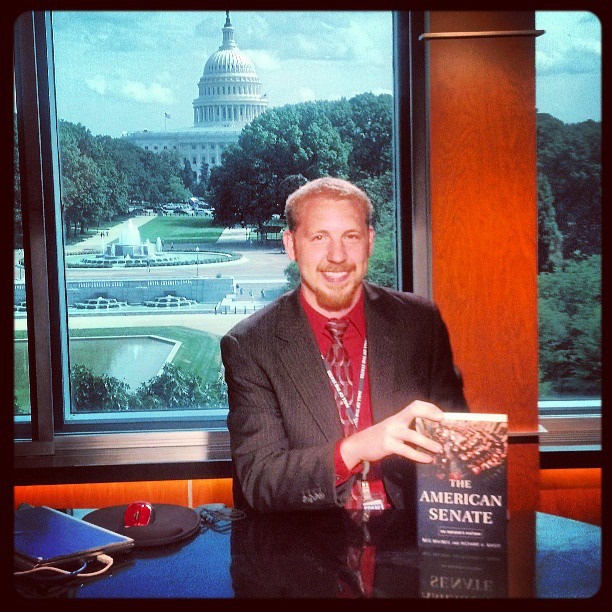 5 Reasons Why You Should Apply for the C-SPAN Teacher Fellowship
You may know C-SPAN as that boring channel that airs footage of Congress, or you may know C-SPAN as a great organization that offers tons of free resources and opportunities for teachers.
If you're one of the former, you should check out C-SPAN Classroom Deliberations, C-SPAN's StudentCam Competition or C-SPAN Classroom. If you check back, I regularly do professional development workshops in New Jersey related to C-SPAN, and I'm thinking about hosting some webinars in the spring.
But if you're one of the latter people, then you should definitely keep reading about the C-SPAN Teacher Fellowship – what it is and why you should apply for it.
Note: I was a C-SPAN Teacher Fellow in 2013.
What Is the C-SPAN Teacher Fellowship?
Every year, the C-SPAN Education Foundation hires three Teacher Fellows to work in their Washington, D.C. office throughout the month of July. These Teacher Fellows are classroom educators who have experience incorporating C-SPAN material into their classroom.
These Teacher Fellows have a number of responsibilities. First, they help plan and facilitate C-SPAN's two Educator Conferences that take place in July.  These are two day workshops that offer participants a fast-paced but complete look at everything C-SPAN has to offer. The Fellows participate in the planning process for these workshops and typically present at least one session on how to use C-SPAN in the classroom.
Second, these Teacher Fellows develop new lesson plans for the C-SPAN Classroom website. These lesson plans utilize video content from the C-SPAN archive to teach concepts in civics, government, and history. This involves spending a lot of time weeding through the enormous video archive in search of relevant content and clipping it into shorter clips.
Finally, the Teacher Fellows help the Education Department with their ongoing planning and development of resources. This could be revising parts of the website, developing more Bell Ringers, finding more video clips, or helping plan out the following program year. Each year is going to be a bit different based on the needs of the department.
Why Should You Apply for the C-SPAN Teacher Fellowship?
If you're anything like me, that sounds like a pretty cool summer opportunity. But in case you need some convincing, here are five reasons you should consider applying for the C-SPAN Teacher Fellowship this year.
You Get to Create Resources You'll Use. I like doing research to develop document based lessons, but let's face it – it's hard to find the time. While there's plenty of time to do that over the summer and during vacation time, it can be hard to set aside the time to do so. You need down time.
As a Fellow, you'll be getting paid to sit in the office and develop lessons – and unless you're a fool you're going to be developing lessons that you find personally interesting and useful. In the summer that I spent as a Teacher Fellow, I think I put together ten lessons for the C-SPAN Classroom website. While I haven't used all of them in my class, I've used a lot of the videos and clips that I found. It's a perfect win-win situation – C-SPAN ends up with useful content for their website and you end up with useful content for your classroom.
You'll Learn a Lot. I'm a bit of a political geek, and I would sit and watch C-SPAN a lot if I actually had free time. In my time as a Fellow, I was able to satisfy my curiosity and listen through a lot of video content looking for useful clips. Not everything ended up being used in a lesson plan, but it all helped me learn about government and politics. I listened to a great interview with John Lewis, to Lyndon Johnson's speech to Congress about the voting rights act, to John Kerry's testimony that sparked the Swiftboat controversy, parts of the Bork hearings, and much more. I learned a lot in that month, and it showed in my subsequent years teaching.
The Staff is Amazing. The people at C-SPAN are welcoming and great to work with. Craig and Pam in the Education Department are awesome co-workers, and they're also fun to hang out with at lunch. I still keep in touch with them years later, and I stop in for lunch or a cup of coffee just about every time that I'm in Washington. At some point, you'll have the opportunity to meet Brian Lamb. Brian is the founder of C-SPAN, and he's both a wealth of knowledge and a generally intriguing person. They also thought of me when planning out the route for their bus, and the bus has stopped at my school for a visit twice in the past few years. You'll also be treated to a behind the scenes tour of the C-SPAN offices and production studios, and if you're lucky you'll have the chance to go out with one of the camera crews on an assignment in the city.
You Get the Live in Washington, D.C. If you teach social studies and you wouldn't enjoy being in Washington for a month, then there must be something wrong with you. This can be a bit of a hardship if you have a family, but otherwise there's no downside. You'll be able to visit the many museums, monuments, and government buildings in D.C. There's also a lot of fun stuff to do in the city during the summer – like free jazz in the park at the sculpture garden and a huge food truck festival by the Nationals ballpark. If you're on the younger side, this is a definitely a huge bonus. D.C. is a young city filled with young professionals, and you'll have plenty of ways to fill your leisure time. Oh, and the food trucks down the street are amazing. You can probably eat at a different one every day and not have to repeat all month.
The Pay is Nice. And lastly, it's worth noting that you are compensated well for the month. You receive a paycheck as well as a housing stipend (which is appropriately sized to find housing in the super-expensive city). There are a number of great summer opportunities for professional development, and some will provide a housing or travel stipend or some other kind of honorarium. But I've yet to find one that actually pays you a real salary commensurate to what you might earn as a teacher. Considering how strapped many of us are for cash – especially in the summer – this can be a prominent concern and a hurdle for teachers who might otherwise want to engage in professional development over the summer.
How to Apply for the C-SPAN Teacher Fellowship
For a complete list of requirements and for the application, head over to the Teacher Opportunities page on the C-SPAN Classroom website.
The first step in applying is to complete an application form on the website. This involves some basic identifying information, three essays, and a resume. In the essays, you'll have to explain how you've used C-SPAN in your classroom, what you hope to get out of the fellowship, and how you would teach other teaches to use C-SPAN in their classrooms. This initial application is due by March 1, 2019.
If you're selected as a finalist, there's a second step to the process. This involves video taping a lesson in which you use C-SPAN video content and participating in a phone interview with the Education staff at C-SPAN. Finalists will be notified of this second round by Friday, March 15, and you'll have to submit your video by Friday, March 29. That is a quick turn around, so if you know your school calendar is going to make it tough to tape something in those two weeks you may want to record something ahead of time just in case.
If you're one of the lucky three teachers chosen to be a Teacher Fellow for the summer of 2018, you'll be notified by Friday, April 12.
This is a highly competitive process, so don't feel bad if you don't make it. If you aren't selected or if you feel like you're not versed enough in C-SPAN's offerings, you may want to apply to attend one of the Summer Educator Conferences instead.
This is a great opportunity to meet the staff and get your foot in the door for next year. Fellows have often attended the Educator Conference, but this isn't a requirement. [Note: I did not attend an Educator's Conference before I applied for the fellowship in 2013, and I was still selected.]
Good luck, and feel free to drop questions in the comment section below.