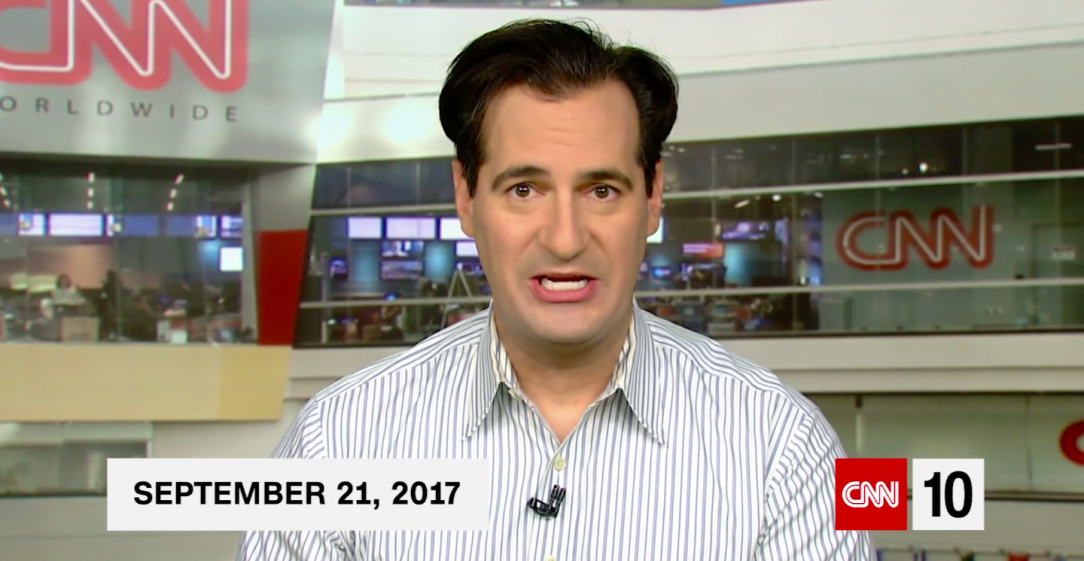 Teaching Methods and Assessments to Use with CNN10 Current Events
Teaching current events is an important part of civics education. Students need to know what's going on around the world to be engaged citizens.
If you want to teach current events in class, CNN10 is a free online resource for doing so. If you're unfamiliar with CNN10, you can read more about why it's a great tool to use with your students here.
Five Suggested Methods for Teaching Current Events with CNN10
But if you've already checked out CNN10, you know it's a daily 10 minute video podcast that covers three to four important news stories. At this point, you're probably wondering how best to incorporate it into your class. On that note, here are five suggestions to get you started.
Once Weekly Current Events and Summaries
Set aside one day a week and devote it to current events. On that day, start by asking students to share any news stories they've heard about during the week. Then, watch one to two of the CNN10 videos from the week. I suggest always using Friday's video, because it includes the cool montage at the end of the episode. For the second one, you might want to skim the topics for the week to see what is most relevant to your students.
Have the students jot down notes while they are watching the video, and after each one take a few minutes to debrief. As a group, identify each story, emphasize the key details, and answer any questions that the students had. If there's a particularly interesting or relevant story, you can extend this into a brief class discussion, but try to avoid it consuming the entire period.
Once you've finished both videos, have the students write one of two things. Either write a paragraph that summarizes the key events of the week, citing at least three news stories as examples. Or write a paragraph that identifies the most important story of the week, summarizes that story, and explains why it is important. They're slightly different writing skills, so you may choose to assign one or the other to target those skills. You could also leave the choice up to the students.
One final adjustment would be to assign the writing for homework. This would increase the amount of class time available for discussion of the news as a class. You could always play this by ear, assigning the writing for classwork if the discussion peters out and assigning it for homework if there's enough interest to carry it through the end of the class.
Daily Current Events and Summaries
A second option is to watch each day's CNN10 video as an introductory activity for the day. It's short enough that you can settle in, watch the video, and quickly debrief in 15 minutes. Afterwards, you'll still have time for another main activity in class. This is best suited for block periods, but you can do this with a traditional class as well if you instill the routines in your students and eliminate time wasting.
If you watch these current events on a daily basis, I would suggest that you have the students write a paragraph each day as per the assignment above. However, it's simplest to have them hold on to those summaries until the end of the week and hand them each Monday. Students who are absent can watch the videos on their own time and make them up. If you miss a day, you can also assign that video for homework. Collecting it weekly also cuts down on the amount of paper you collect and read, as you can quickly check an entire week's worth of work instead of five pages per student per week.
Flipped Classroom Videos and Weekly Quizzes
A third option is to flip the classroom and assign each day's video for homework. If you use a learning management system, you can upload the videos there for students to access, or they can go directly to the CNN10 website. Similar to the suggestion above, students can write a daily summary or reflection on what they've watched and you can collect that each Monday. The Monday due date gives students the entire weekend to catch up on any videos they missed, and it allows busy students like athletes to make adjustments to accommodate their weeknight schedules.
As an added incentive to make sure that students watch the videos and write thorough summaries, I would give a quick quiz each Monday morning. CNN provides a series of multiple choice questions with each video, so you could borrow some of these and combine them into a quiz. You could also write your own. Either way, let the students use their notebooks on the quiz and ask a few questions about the major details of the news stories. This will ensure that students aren't just skimming the headline and writing their summary by paraphrasing the summary CNN10 provides.
Monthly or Quarterly Reflections
Once you get students in the habit of regularly consuming the news, you should incorporate regular longterm reflections. On a monthly or quarterly basis, assign students an essay that asks them to reflect on the major themes in the news. For example, some recent recurrent themes are have been the conflict with North Korea, natural disasters, and the debate over the Affordable Care Act. Writing the essay is a good opportunity for students to look back through their writing for the period in question and think about the bigger picture. On a daily basis, it's easy to lose the forest for the trees and focus too much on the individual events and news of the day.
Have Students Produce Their Own CNN Student News
A fun summative project for a semester or for the year would be to have students produce their own CNN Student News show. After a few months, they'll understand the format and routines of the show. Depending on the technical capabilities of your students and the available technology in your school, you could set higher or lower standards for production value.
If you set the bar high, you could require students to incorporate some actual news footage into their broadcast, share a viral video clip, and close out with a photo montage from the week. You could also require them to film a "CNN Hero" type segment where they interview and feature a student or staff member from the school community.
You could set the bar a bit lower by simply having them write up a script, putting two news anchors behind a desk, and filming it on a cell phone.
Either way, this steps it up a notch from just watching and summarizing the news to making editorial decisions about what to include and what not to cut. As part of the assignment, you should ask students for a written reflection on their production process as a group.
If your kids are into video production, you should also think about using StudentCam in your class. It's an awesome project that challenges kids to think deeply about the Constitution… and they can win a cash prize for participating.
Have You Used CNN10 In Your Class?
If you've never used CNN10, take one of these ideas and try it out. But if you have, why don't you share your routine in the comments? The five suggestions above are just the beginning. I'm sure there are plenty of other ways that teachers incorporate this into their routine.
Also, don't forget that using current events is one of the six research based methods for improving civics education. Read more about the other five.
Finally, CNN10 is also a great way to liven things up a bit. Here's a list of six ways to teach government in a fun way, if you're looking for more ideas.