A Teacher's Guide to Cord Cutting: How to Cut the Cord and Save Money
Once upon a time, you needed a phone line in your house. Then television got more complicated, and you needed cable. And then along came this thing called the Internet, and you had to pay for that, too.
Have you thought lately about how much you're paying the cable company for all these services? I did, and I decided that I'd had enough so I cut the cord.
What follows is the rundown on all the choices you'll have to make before cord cutting – what devices to buy and what streaming services to subscribe to.
If you want the tl;dr version, here's my set up now that I've cut the cord:
Verizon Fios Internet, 100mbps: $39.99 / mo
Netflix Premium, $15.99 / mo
Keep reading to walk through the entire process of cord cutting:
Figure Out Your Internet Situation
Determine What You Actually Watch
Buy (or Don't Buy) a Digital Antenna
Buy a Streaming Device
Subscribe to Streaming Services
Enjoy Having Cut the Cord
Step One: Figure Out Your Internet Situation
Before you worry about streaming services and devices, you ought to figure out your bottom line. This means looking at your current cable bill – and crying about how much money you're throwing away every month – and then figuring out how much it will cost you to get only Internet.
With those two figures in hand, you can determine your savings. Then you know how much you can budget for streaming services and devices and still save money.
Your options for this may be limited. First, determine how much it costs to get only Internet from your cable provider. This should be in the neighborhood of $40 or $50 – if they're charging you more, they're ripping you off.
Then, see if there's any competition. In some locales, you can get Verizon Fios. This can be an effective and cost effective alternative. In others, your only option may be DSL, and that may not be sufficient for your needs.
Step Two: Determine What You Actually Watch
An important next step in cutting the cord is to inventory what you watch on a regular basis. Are you a sports fan? Do you love primetime shows on broadcast TV? Are you into premium cable, like HBO and Showtime? Do you watch a really obscure channel?
This will be important for determining the next two decisions – (a) do you need an antenna and (b) what streaming services will keep you satisfied.
Start by jotting down (a) what shows you watch on a regular basis and (b) what channels you watch on a regular basis.
If you find that you watch a lot of shows on broadcast TV, you may want to get a digital antenna (see the next step). Depending on what shows you watch, you'll want to determine to appropriate streaming service (see step four).
For me, the two most important things were: The Walking Dead on AMC and College Football. But I also enjoy watching an occasional sports game during other seasons, as well as late night TV like The Late Show with Stephen Colbert and The Daily Show with Trevor Noah.
Step Three: Buy (Or Don't Buy) a Digital Antenna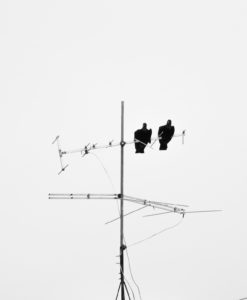 There's a joke going around the internet that millennials have discovered a hack to get free TV. It's called a digital antenna – and it's a sign of the times that we've forgotten that TV used to stream into your house free over the air.
With a digital antenna, you'll get a selection of local channels – your typical broadcast channels (CBS, NBC, FOX, ABC) as well as a handful of others. And this is a great first step in cutting the cord – because there's no subscription fee!
If you don't watch a lot of live TV but you want to maintain a bare minimum of access, this can be a great way to go. You'll get access to some sports, to primetime TV, to late night TV, and if you're lucky you can watch re-runs of Law and Order on ION TV. And best of all, it'll only cost you a one time investment of $15 to $20.
I bought a Winegard FL-500 Digital Antenna, $14.99 on Amazon and it worked great for me. It can be tricky getting all of the broadcast stations on a streaming service (see the next step), so if those are important for you you should definitely make this small investment.
Step Four: Buy a Streaming Device
Assuming you want to watch something else besides your digital antenna, you're also going to need a streaming device when you cut the cord. This will let you hook up whatever services you subscribe to to your TV.
Now you could go ahead and get a smart TV that comes with one of these devices built in, but I'd caution against that. Streaming devices cost somewhere in the neighborhood of $25 to $50, and your TV probably costs many times that. If the streaming device breaks or becomes outdated, do you want to have to replace the entire TV…?
You've got a few different options here, including Roku, Amazon Fire TV, Google Chromecast, Apple TV. They all work in a pretty similar way – they hook up to your TV and let you access video content and log into various streaming services.
The Amazon, Google, and Apple options will all integrate best with other Amazon, Google, and Apple products. For example, the Chromecast won't let you stream Amazon video content but it integrates seamlessly with Android devices. Roku, being a third party, is more agnostic about platform and plays nice with just about everyone.
I was an early adopter of the Chromecast when it first came out, but recently I've switched up to a Roku Express. I ultimately chose this over Google Chromecast and Amazon Fire for several reasons.
First, it was cheap ($29.88 is less than all of the other options). Second, it allows me to stream Amazon video content (Chromecast does not). Finally, it includes a remote and a menu (Chromecast doesn't; it works on your phone or laptop).
Step Five: Subscribe to Streaming Services
This is where your list of shows and/or channels will come in helpful. There are a lot of options out there for streaming services. Many of them overlap in a lot of ways, but you'll find a few unique things about each.
At the end of the day, which services you choose will probably be a personal decision based off of your unique needs. You'll need to research each of the options yourself to see which mix is best for you. But here are a few highlights.
The Original Streaming Services for Cord Cutting
Netflix is the original, and it's still a major force in this field. I had Netflix before I cut the cord, and I continue to subscribe now. It gives you access to a ton of older TV shows and movies, as well as their increasingly rich collection of Netflix originals. If you don't watch a lot of new shows, this may be all you need.
Amazon Prime is another great service. I don't think I would subscribe to this if streaming content was my only concern. But I've been a subscriber for years because of the free expedited shipping, and now you also get access to music, books, TV shows, and movies with your subscription.
This can also be a platform through which you can subscribe to a show or a channel, if you don't need a whole suite of live TV channels. For example, I was thrilled to find that I could subscribe to the season of The Walking Dead – and not worry about any other live TV. Buying the entire season for $42.99 may sound like a lot, but it's a steal compared to paying $25/mo for a streaming service to make sure you have access to AMC.
Live TV Streaming Services to Fully Cut the Cord
But you may want to have live TV as well. Once upon a time, this was the biggest drawback to cord cutting, but today there are four major providers that can help you with that: Philo, Sling, Hulu + Live TV, and Youtube TV.
Each of these four services gives you access to live streaming TV, but they have some minor unique differences. First off, Philo offers the cheapest plan – $16/mo. Sling starts at $24.99/mo, and Hulu + Live TV and YouTube TV are both $40.
Each of these four services also has specific limits on the number of streams that you can use simultaneously. For example, if you're watching the TV in the family room and your child is watching something on their phone, that is two streams. Depending on the size of your household, you may need fewer or more streams.
YouTube TV dominates this aspect – with six simultaneous streams allowed. Philo is also great, with three. Hulu allows two simultaneous streams, although you can pay more for unlimited streams. Sling offers three streams on one of their subscription packages (Blue) but only one stream on the other (Orange) – so be careful when choosing!
Finally, each service offers a slightly different line up of channels.
You should carefully compare your inventory of channels with each service to see which one is best for you. But generally speaking, Philo has the most limited selection, although it includes a lot of standard basic cable channels. Sling has all of the ESPNs in its Orange line-up, and a good selection of basic cable channels without sports in its Blue line-up. Both of these are lacking the basic broadcast channels (CBS, NBC, ABC, FOX), although this doesn't matter if you purchased an antenna above.
Hulu with Live TV and YouTube TV both have larger line-ups, and they both include the broadcast stations.
Ultimately, I chose Sling – I had the Orange and Blue package during the college football season and I downgraded to the Blue package once I wasn't concerned with watching ESPN.
Step Six: Enjoy Having Cut the Cord
Once you've made all of those decisions, it's time to sit back, relax, and enjoy the show. Install your streaming device, log in to your streaming services, take the old cable box back, and then sleep well knowing that you'll be saving money every month from here on out.
Do you have any questions about cutting the cord that are preventing your from taking the leap? Maybe you have a tip for other reads? Drop a comment below.